Using the WayAhead Directory
The WayAhead Directory is a powerful resource that can help people find the information and services they need to support themselves and others. The services are largely NSW-focussed, although there are some ACT and nation-wide listings.
Starting your search
There are two main ways to find the organisations that may be able to help you.
Method 1
From the homepage, type in a key word or service in the first text box, then add in your suburb or postcode in the second text box. You will have to select a suburb from the dropdown menu to continue.
If you're unsure what suburb to put, you can just type Sydney, and choose Sydney 2000, from the dropdown menu. This will cause all the listings, for the key word or service, to come up in order of distance from Sydney.
If you want to include online resources and phone lines tick the box under keyword or service type.
For example: a key word might be anxiety or the name of an organisation WayAhead
Method 2
From the homepage, scroll down to the section that reads Search Categories. You can either click through to one of the displayed categories or click the View All Categories button that will take you through to a comprehensive list of available categories to help refine your search. Click on the topic and then add your suburb or postcode, or if unsure Sydney
For example: click on View All Subcategories and then scroll down to Anxiety Disorders, under the heading Mental Disorders.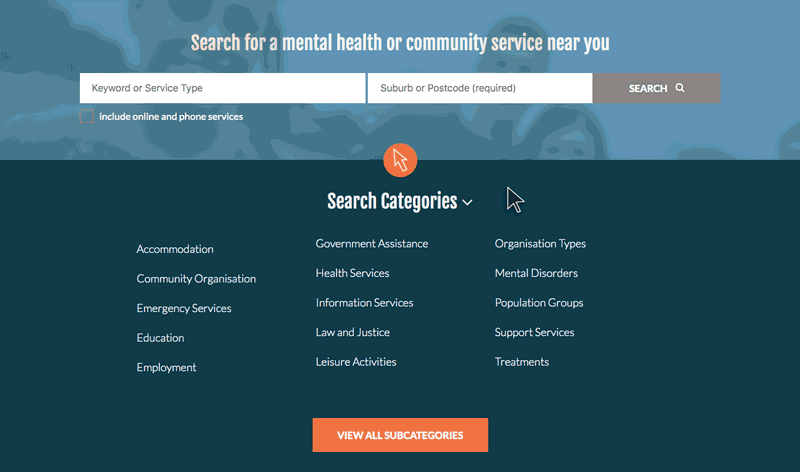 Finding the service
Once you have submitted your search term, you will be directed to a list of all of the services that fit your needs. You can scroll down to find the best fit for you, based on information about the service and proximity to you.
If you click on the name of the service in the search listings, you will be redirected to a page that will have further information on each organisation. This includes information about the service, what it offers and contact details.
If you'd like to continue your search, you can also use the navigation bar to the left of the search listings to explore other categories and subcategories.
Tips for navigating the directory
If you are not sure of the location, type in Sydney and choose the Sydney 2000 option from the dropdown menu.
The listings that come up will be listed from closest to furthest away from the postcode or suburb you select.
Crisis numbers can be easily accessed on the right of the top navigation bar.
If you are having trouble navigating the directory, we are available to help so call us between 9 am – 5 pm, Monday to Friday on 1300 794 991 for assistance